Required Documents
Proof of Identification: All applicants 18 and older are required to furnish valid identification. Non-U.S. citizens applying to a home may be required to present information acknowledging the individual's right to live in the United States through the duration of the lease term.
Proof of Income: All applicants 18 and older are required to upload documents verifying income (as applicable based on the following).
Common income documents include but are not limited to: paystubs for the past four (4) consecutive weeks (4) if paid weekly, 2 if paid bi-weekly, semi-monthly or monthly) or the past three (3) consecutive months of complete, unaltered bank statements. The most recent proof of income must be dated within the last 15 days of the date of application.Any application that provides falsified or intentionally incorrect information may be subject to automatic disqualification. If an applicant falsifies their application and/or supporting documentation, landlord has the right to hold all deposits and fees paid to apply toward liquidated damages.
Applicants that do not have income are not required to upload documents.
All income should be verified and evidenced by the source of income. If income is not verifiable, FirstKey Homes may request additional information for verification.
Representatives of FirstKey Homes are not able to accept financial documentation, or any other related Personally Identifiable Information, via email. It is the responsibility of our applicants to upload all required information.
Note: Proof of Income fields can accept multiple documents. When choosing your documents to upload from a PC, simply hold the Control (Ctrl) button on your keyboard and select the files you wish to upload. Please reach out to your local leasing agent with any issues.
Documents can be uploaded at www.rentcafe.com.
Click Guest Login. Enter the e-mail address and password you used when applying on the FirstKey Homes website. Select status button Application Submitted or Continue Application.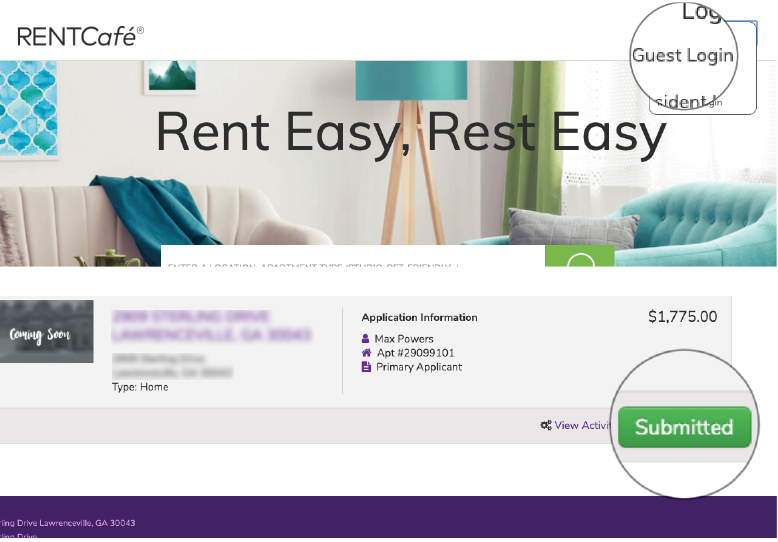 Select the Documents folder in the top right corner. Choose a field that has not had files uploaded. Select Choose File.
Note: Proof of Income field can have up to 5 files uploaded by holding Control/Ctrl button and clicking on the desired file. Additional documents requested fields are limited to 1 file each. All documents must include your name, listed address and dates.
Once files are uploaded, you will see a green check and the word Uploaded.
Note: Next steps cannot be completed until all applicants have uploaded required documents.